by 101holidays.co.uk
1. Spain
Spain has long been a  favourite of British holidaymakers, and it remains our number one holiday destination. In particular, the Balearic islands of Mallorca and Ibiza are perennial big-hitters (not forgetting Menorca), along with Canary Islands such as Tenerife, La Palma and the beautiful lesser-known La Gomera. Other great beach destinations include the Costa de la Luz andCatalonia.
Northern Spain is overlooked by most tourists, even though it combines magnificent empty beaches with rolling countryside, mountains, medieval towns and buzzing cities. It's authentic, great value and the food is superb.
There's a lot more to Spain than beaches. There are great walking holidays in the north andcycling in Catalonia. The rise of low-cost airlines has benefited city breaks in places like Palma andSeville – both of which are rich in culture. Meanwhile, lesser-known islands such as La Palma in the Canaries are well worth a visit.
For sporting holidays you can't beat La Manga Club which has world-class tennis facilities and three championship golf courses. You can also explore Spain on a luxury rail holidays using the superb state-run trains such as the Transcantábrico and La Robla.
2. France
The relationship between the British and French may have had its ups and downs over the years, but our love of all things French shows no signs of abating. From the Channel ports to the islands of the Mediterranean, Francophiles are never short of new destinations to discover.
Among our favourite holidays in France are the beaches of Corsica and Ile de Ré. You can visitMonet's Garden in Giverny, take a cycling holiday, a golfing holiday or a battlefield tour.
If you're looking for an excuse to crack open a few bottles, take a wine tour or a champagne weekend. Or relax and watch the countryside roll by on a luxury hotel barge with gourmet meals, fine wines and excursions all included. Destinations include Burgundy, the Canal du Midi, Provenceand Gascony.
In the French Alps you can ski on a budget, or with a family, plus they make a great destination insummer.
You can visit Disneyland Paris with the kids or rent a French chateau.
Even in winter you'll find long days of sunshine on the Cote d'Azur. Take a short break in Nice.
3. Great Britain
No list of holiday destinations for UK travellers would be complete without mentioning our own great country: not just England, but Wales, Scotland, Northern Island and some of our lesser known islands such as the Scilly Isles and the Isle of Wight.
The UK's most popular tourist destinations include Devon and Cornwall, the Lake District, the Yorkshire Dales, Dorset, East Anglia and Scotland.
Britain offers many interesting holiday experiences. You can rent a lighthouse keeper's cottage or sleep in a log cabin in a secluded forest or take a boating holiday on one of the UK's many canals and rivers.
In the Highlands and Islands of Scotland you could take a whisky tour, ride a steam train on theWest Highland Line or take a tour of Mull where you can see minke whales, otters, seals and porpoises. Take a city break in Edinburgh or rent a big house in the countryside. You can even rent a Downton Abbey-style historic house sleeping 6 – 60 people. Perfect for birthdays or anniversaries.
4. Greece
Holidays in Greece are all about simplicity. Despite a recent proliferation of five-star hotels, it is the whitewashed villas, the friendly tavernas, the hot sun and blue seas that keep us coming back year after year. Even Greek food is a masterpiece of simplicity, both traditional and healthy.
It is the islands that attract the most visitors. Corfu's villas never lose their appeal. If you're looking the quintessential small Greek island, we recommend Paxos, which has no airport and is a great place for lazy days, boat trips and lovely villas.
If you fancy being slightly more active, the Lakitira Beach resort on Kos, just off the Turkish coast, offers a wide array of watersports. Or learn to sail in Greece.
Crete is the largest and arguably the most interesting of the islands. Steer away from the tacky resorts and stay at one of these stylish houses for rent or family villas.
Mainland Greece offers a wonderfully diverse range of holiday options. Relax by the pool at the beautiful Sani Asterias Suites.
And the recent economic crisis in Greece shows no sign of toppling the country as one of the best European holiday destinations.
Find more holiday ideas in Greece and our pick of the best Mediterranean holidays.
5. Italy
Ancient culture, great beaches, fantastic food and beautiful weather – it's no surprise that so many of us decide to holiday in Italy. Our editors rate it is one of the best holiday destinations in Europe.
For a taste of la dolce vita, head to the wonderful cities of Rome, Florence and Venice – for an extra dash of old-school glamour, you can even travel to Venice on the Orient Express.
Umbria is a beautiful area of Italy, boasting medieval market towns, wonderful vineyards and great works of the Renaissance – and largely untouched by tourists. Beach lovers will be blown away by the 500 miles of coastline in stunning Puglia, not to mention the traditional architecture and terrific food and wine.
The Italian Lakes attracted some of the first package tourists from the UK and they continue to be popular for their beautiful setting, mountain views and great transport links for visiting local sights.
The lesser-known area of Le Marche offers everything you would expect from Italy – great beaches, historic palaces and galleries stuffed with masterpieces. The island of Sicily combines historical sites with a gorgeous coastline, while Sardinia has the country's best beaches, and the Amalfi Coast is a fantastic base from which to visit Sorrento, Capri, Mount Vesuvius and Pompeii.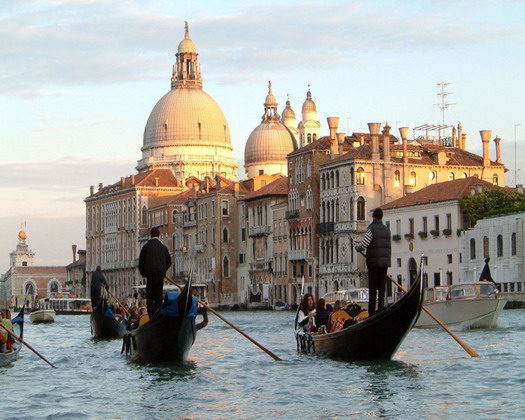 6. USA
Britain's much-vaunted special relationship with America doesn't stop at politics – it also extends to tourism. It may sound like a cliche, but a country as large the United States really does have something for everyone.
For many visitors their first stop is New York which – despite stiff competition from the Far East – retains the title of the world's most exciting city. With so much ground to cover and so many sights, the key is in finding the right hotel for you.  Recommendations include The Sanctuary Hotel in Theatreland, Ink48, in trendy Hell's Kitchen and the Hotel Gansevoort in the exciting Meatpacking District.
The beautiful resort of Cape Cod gives visitors a taste of old-fashioned American seaside resorts, or you can rent a car for some fly drive California, taking in everything from Beverley Hills Napa Valley vineyards.
For an unrivalled splash of glamour, nothing comes close to the glitz of Las Vegas, or for a taste of the Wild West head to a dude ranch for a hands-on holiday. Or visit the settings of classic TV shows and movies on a selection of location tours.
Florida, with its theme parks and beaches has long been a favourite of British families, while Miamiis a fantastic mix of beaches and city bustle. If you're on a tight budget, check out HostelBookers which has a great collection of cheap hotels and hostels across America.
7. Turkey
Turkey has benefited from its exclusion from the Eurozone. Although it suffers from inflation and isn't as cheap it was 20 years ago, it still compares favourably to its western neighbours.
With its endless Aegean coastline, Turkey has some of Europe's finest beaches, many of which remain relatively unspoilt. And you're rarely far from a slice of ancient culture. Although most summer sunseekers  head straight to the coast, a short break in Istanbul should not be missed, ideally in spring or autumn.
8. Egypt
It's difficult to know where to start with the historic treasures that Egypt boasts, but a great way to explore them is on a Nile Cruise. Float in luxury between the temples of Karnak and Luxor, the Valley of the Kings, and Aswan. The capital Cairo is home to the Egyptian Museum where you can see King Tutankhamen's solid gold death mask, and just outside the city are the iconic pyramids and Sphinx.
9. Croatia
The pristine coastline of Croatia is one of the most beautiful in the world – and one of the most unspoilt in Europe. It's also good value compared to other Mediterranean countries.
Either stay in one of the beautiful resorts that dot the coastline, or head out to one of the many stunning islands that lay off the coast. The island of Hvar is a real stunner, easily reached by ferry from Split. It has fabulous beaches and a great selection of budget hotels and luxury hotels.
The historic city of Dubrovnik has been beautifully restored in recent years. Originally built by the Venetians, the Pearl of the Adriatic has some great food and is a wonderful base from which to take the ferry to surrounding islands.
10. Thailand
Thailand, the Land of Smiles, continues its meteoric rise from backpackers' haven to mainstream holiday favourite. The appeal is obvious: beautiful countryside and beaches, great food, friendly people and low prices. But Thailand also has a fascinating unique cultural heritage, enfused by Buddhist ideals. And Bangkok, the capital, fizzes with energy.
It's the islands that attract the most attention, however, with Phuket bringing in most visitors. Most of its hotels are world class. Not far away, in the Gulf of Siam, the idyllic island of Koh Samui has some delightful small luxury hotels, and its neighbour Koh Phangan is on the up. Thailand is also a great destination for a spa break, most notably at Chiva-Som.