by AllSands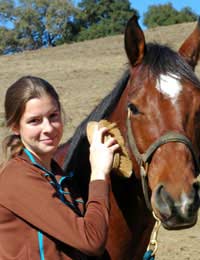 Despite their size horses are very delicate creatures. Their skin is very prone to diseases and funguses. In order to prevent the spread of such maladies throughout their body it is important to catch it in the beginning stages. If done properly, grooming often alleviates such maladies. The first procedure that must be followed is currying.
Currying involves a currycomb, these combs come in a variety of textures and sizes. If the horse has very thick fur and is in a summer climate, where they must shed, spiky rubber combs are usually the most appropriate. Such combs must be used in hard circular movements to remove fur. If the horse has thick fur, however is in a winter climate, long metal currycombs are needed. With such a currycomb, long brushing strokes throughout the fur are appropriate. For shorthaired horses it is important to remember to be gentle. Soft rubber bristled currycombs are needed, and should be used in soft gentle movements to remove shedding fur.
After currying a horse, a hard brush is needed. The brush should be hard enough to brush fur off of the horse, without making him flinch. Do not use a hard brush on a horses face or belly. Carefully follow the direction of the fur and brush all excess fur off. Next use a soft haired brush to smooth out the texture, also brush the face and belly with the soft brush.
After currying and brushing the horse, the mane and tail need to be carefully brushed. When brushing the tail be careful not to pull hair out, untangle knots with your fingers. Next the feet must be picked out. Pick on either side of the frog, but do not apply pressure to the frog (the frog is the soft core of the hoof.) Fly spray or other ointments may now be applied to the properly groomed horse.
bonus video: How to Groom Your Horse