By Mansel Fletcher, editor at Mr Porter at FT.com
Personalised fabrics take bespoke tailoring to new levels and pay homage to past distinguished dressers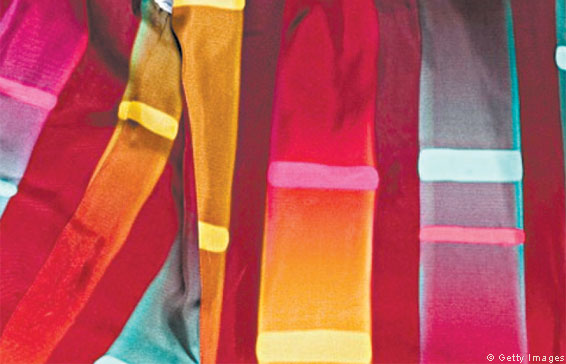 What happens when bespoke is not enough? As the ability to personalise everything from your trainers to your trench has become democratised thanks to the internet, those in search of the truly special – the ne plus ultraof made-to-order – have become frustrated. Even more so as their old go-to solution, the tailor, has been constrained by the increasing homogeneity of cloth. That is about to change, thanks to three new services that offer men a range of fabric as broad as their imagination.
The lining of a Cad and the Dandy jacket with a printed image of a client's DNA
---
Think of it as bespoke from the beginning. Sounds over the top? Perhaps, but a number of men feel strongly about it.
Paris-based American financier Michael Alden says: "I have been a client of bespoke tailors most of my life, but a decade ago my desire to have clothes made waned as I could no longer find fabrics of sufficient style and interest. Visiting a tailor, I'd find dozens of sample books [of fabrics] with little in them but the standard blues and greys for business suits."
Indeed, according to Frank Shattuck, a tailor from New York, "Quality cloth that can stand up to manipulation by skilled hands and the steam of a heavy iron" has almost disappeared, "replaced by cloth made for gluing in factories."
"Fabric weights have changed over the years to accommodate the change in climate, central heating and air conditioning," explains cloth merchant Frederic Dormeuil. "Luxury cloths tend to be on the lighter side as the fibres used are generally of finer quality." The end result: lack of choice for even the uppermost end.
Alden believes that one of the things that distinguished the great dressers of the past – such as Fred Astaire, Gary Cooper and Gianni Agnelli – was the fabrics from which their clothes were made. They were heavier, draped better and carried richer patterns and colours than much of what is available today. So, in 2005, he set up the Cloth Club on his London Lounge website, a forum with about 400 members on which men discuss their passion for bespoke tailoring.
Alden decided to use the forum to change the situation, and now he proposes very limited runs of fabric of his own design, such as substantial Irish linen in a deep shade of blue.
Gianni Agnelli
---
Once he has persuaded a dozen of his forum members from around the world to each subscribe to enough cloth for a suit, which, at around £100 per metre, costs approximately 25 per cent more than readily available cloths, he has a leading Scottish mill produce the fabric.
In archive shots, including images of Agnelli and the Duke of Windsor, Alden finds "Fabrics in weaves, patterns, colours and weights that have tremendous appeal. They are familiar from the clothes we see in the cinema of the past."
Once a consensus is reached, the cloth is put into production and his customers buy it directly from the mill. In its entirety the process rarely takes less than six months from conception to delivery.
Alden is not the only amateur embarking on this brave new world of fabric design. Savile Row tailors Anderson & Sheppard have just launched a new service that allows customers to design their own fabric in collaboration with Fox Brothers, a cloth mill in Somerset.
"Customers have become increasingly interested in where and how their garments are made, and our service allows them to get closer to the process," says Anderson's shop manager Colin Heywood.
That process, which takes about three months, involves a customer coming up with a design, seeing if Fox has anything comparable in its archive and then working on the colour and the scale of the pattern.
Fabric swatches by Anderson & Sheppard
---
Next, a sample of cloth is made with a few versions of the design, the best of which is selected and tweaked if necessary before the final bolt of cloth is woven. Among the few designs commissioned so far have been a very subtle chalk stripe, inspired by a swatch of cloth from 1938, and a navy blue Prince of Wales check, inspired by a sports jacket from the 1950s. The service takes the price of a two-piece suit from £3,492 to £5,500.
Another unique service is available from Cad and the Dandy, a bespoke tailor in London set up by two former bankers. The firm works with DNA Art, a British company which produces a visual representation of client's DNA from a swab sample of skin cells. A digital photograph of the genetic pattern is made, the client chooses a colour scheme, and Cad and the Dandy print the image on the lining fabric of the customer's suit jacket. This takes only a month above the eight weeks it takes to have a suit made, but adds £300 to the cost, which otherwise starts at £450. Still, it gives new meaning to the idea of personal style – which, some might say, is priceless.